Our invitation: Enter and take a breath.
From Dawn to Dusk is a 12-hour participatory performance event where each hour, from morning light until sunset, invites the audience into a personal or cultural ritual, inspired by the company's Canadian, American, Irish, Persian and Jewish heritage.  Over the course of a day, each hour melts into the next, leading the audience into a variety of experiences that slow time, present the mundane, along with glimmers of humor and revolution. The day unfolds through the guidance of artists Rachel Ellison and Coleen MacPherson. Live music performed by Canadian musicians, led by musician Arif Mirbaghi will merge disparate gestures into a cohesive expression of intentionality.
The piece was planned to run from 6:30am to 6:30pm at Mana Contemporary Chicago as part of the 2017 2nd Floor Rear festival in Chicago. Unfortunately, due to Executive Order 13769 (or Muslim Ban), Iranian-Canadian members of our company were advised not to cross the border to participate in the festival and we were unable to proceed with the project as planned. Instead, we held a 12-hour protest of the President's ban and encouraged visitors to our space to write to their elected officials.
"The simplicity of the setup and its slight estrangement from the everyday—there has been a lot of letter-writing in the last few weeks, rarely silent—provided for a surprising range of emotion: from sadness to outrage to homey pleasure."
- George Olken, Chicago Artists Writers
At Mana Contemporary Chicago as part of the 2nd Floor Rear festival in Chicago on Sunday, February 3rd 2017 from 6:30am to 6:30pm.
Produced by Open Heart Surgery Theatre with artists Coleen MacPherson, Rachel Ellison, Arif Mirbaghi
Performed by Coleen MacPherson and Rachel Ellison
in the absence of: Arif Mirbaghi, Raha Javanfar, Bruce Mackinnon and Justin Ruppel.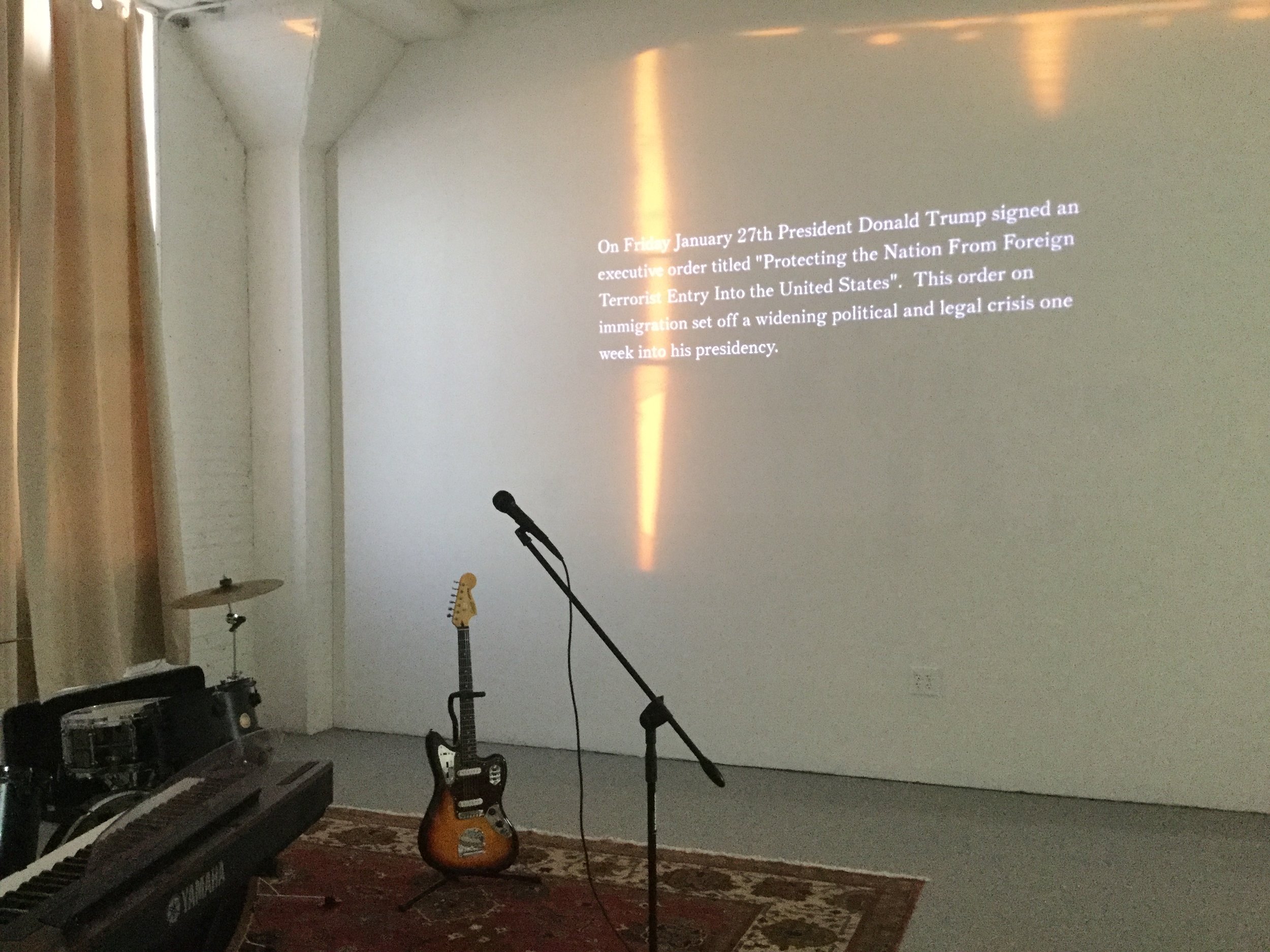 Rachel Ellison is an artist, writer, and sculptor of experiences based in Chicago. Rachel creates performance-events called Rehearsals for Ways of Being using strategies to rethink, recontextualize, and reperform scenes of everyday life. As an extension of these interests, in January 2016 she founded Bat Sarah Press, a company exploring aspects of spirituality and ritual through artfully made objects. Rachel received an MFA in Visual Arts from the University of Chicago and has exhibited works at venues across Chicago and in cities across the US and Canada. Her projects have been featured in Fanzine and on CBC Radio One in Toronto. Rachel has never been considered for a Juno.
Arif Mirbaghi is a Juno-award winning musician and sound designer from Toronto. He holds two certified Canadian gold records, in addition to multiple awards and accolades for composition in a variety of genres ranging from afrobeat (Zuze), trade-jazz (The Double Cuts), and progressive rock (Protest The Hero). As a session player, he has recorded on over one hundred albums, showcasing facility on the electric & acoustic bass, piano, and sitar. His compositions have been toured extensively, headlining engagements and festivals in the USA, Mexico, UK, continental Europe, Japan, Australia and South America. Arif has been described as revoltingly enthusiastic by friends and critics alike.