First Draft
written by Coleen MacPherson, directed by Sarah Warren
First Draft was performed in November 2016 at the Falaki Theatre and the French Cultural Institute in Cairo, Egypt; a co-production with ZAT Studios.
"We have been given very powerful tools ... to think ... to believe in world peace, to love ..."
First Draft is a play of many voices exploring a fast-paced world in contrast to a future world that exists in a protection unit far away from the Earth's surface.   Inspired by conversations about war and E.M. Forster's The Machine Stops, First Draft takes us on a journey from a morning bicycle ride to a protection unit after an environmental disaster.  Originally performed in Toronto, the play went on to Camden People's Theatre in London, UK and the Mimetic Festival. Performed by Charlotte Fox and Louise Callaghan. Most recently the work has been co-produced by OHS and StudioZAT in Cairo. Perofrmed English and Arabic with subtitles and performed by six Egyptian (StudioZAT). The performers play over fifteen characters, taking the audience through a multitude of encounters: from a cocktail bar pouring out the music of Miles Davis to a memory laboratory in the future. This work is a satirical statement against apathy that exists in our society and playfully jostles us to wake up. First Draft began out of questioning the necessity of war and has grown into a satirical play, jumping from present to future and asking: is political change possible? Is war truly necessary and justified? As we consistently watch in the media: a world of violence and intolerance seems more and more the reality. This play speaks against this reality and tries to open our hearts and minds to another world and the possibilities for peace. From a mother speaking about her lost son to a story about a student who attempts to reach the forgotten and unreachable sky; First Draft yearns for a better world and asks the audience if this is possible.
Today we live under the threat of global collapse due to greed and endless hunger for power and dominion and the notion of peace has become an illusion in this era. Studio ZAT and Open Heart Surgery Theatre teams share the same vision about the world we live in today, and through First Draft, an exciting cross-cultural collaboration between Canada and Egypt, we hope to send a wake up call to the world. And together we are writing our first draft of peace.
MEDIA
Playwright Coleen MacPherson was interviewed about First Draft at the Camden Fringe in The New Current. Read the full article here.
First Draft at the Mimetic Festival was reviewed on Theatre Full Stop. Read the review here.
The co-production with StudioZAT was profiled in the Edyptian news. See the article here.
And click here to see the promotional video for the production in Cairo.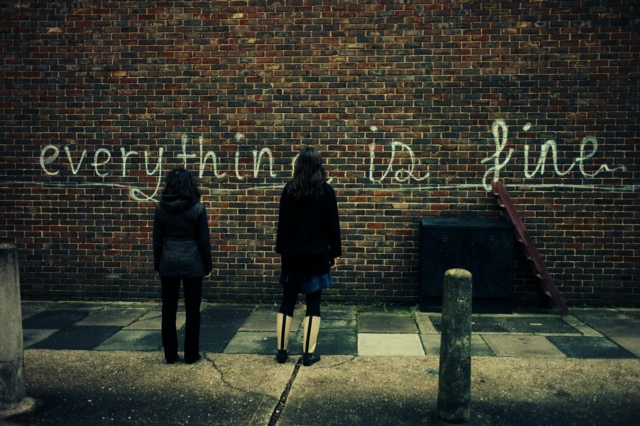 CREATIVE TEAM
Written by Coleen MacPherson
Directed by Sarah Warren
Performed in Cairo by Shady Khalaf, Ahmed Samy, Ahmed Achrafi, Passant Bassem, Salma Maher, and Noha Elkholy
Stage Managed in Cairo by Amr Samir
Performed in Toronto by Chala Hunter and Tom Davis
Performed in the UK by Lousie Callaghan and Charlotte Fox
TECHNICAL REQUIREMENTS
*A theatre space with access to the wings.
* Use of lighting board and soundboard, a technician available for support.
* This play has been performed in a black box theatre space and we can easily adapt to any space as the work is very minimalist.
First Draft is generously supported by